Ashtanga Vinyasa Yoga with First Light Yoga
Monday through Friday: 5:45am–8:15am
Saturday: 7:00am–9:00am
More Info: call 778.891.9642, or email geoff@firstlightyoga.ca
About Mysore Style Ashtanga Yoga
Instructor: Geoff Mackenzie
First Light Yoga is an early-morning yoga program, offering daily sessions, where students are taught a personalized yoga self-practice. (Hint: it's more like Personal Training than a "yoga class.")
Our purpose is to support people who want to practice yoga as a dynamic, meditative, morning self-care routine; something that supports their daily life and keeps them connected to something bigger than themselves.
We attract folk who want to work consistently on one method, with one teacher. They are self-motivated and value independence within the structure of a system.
Our teaching is guided by the Ashtanga Vinyasa Yoga method, which we apply as a model, which we adapt accordingly to each practitioner.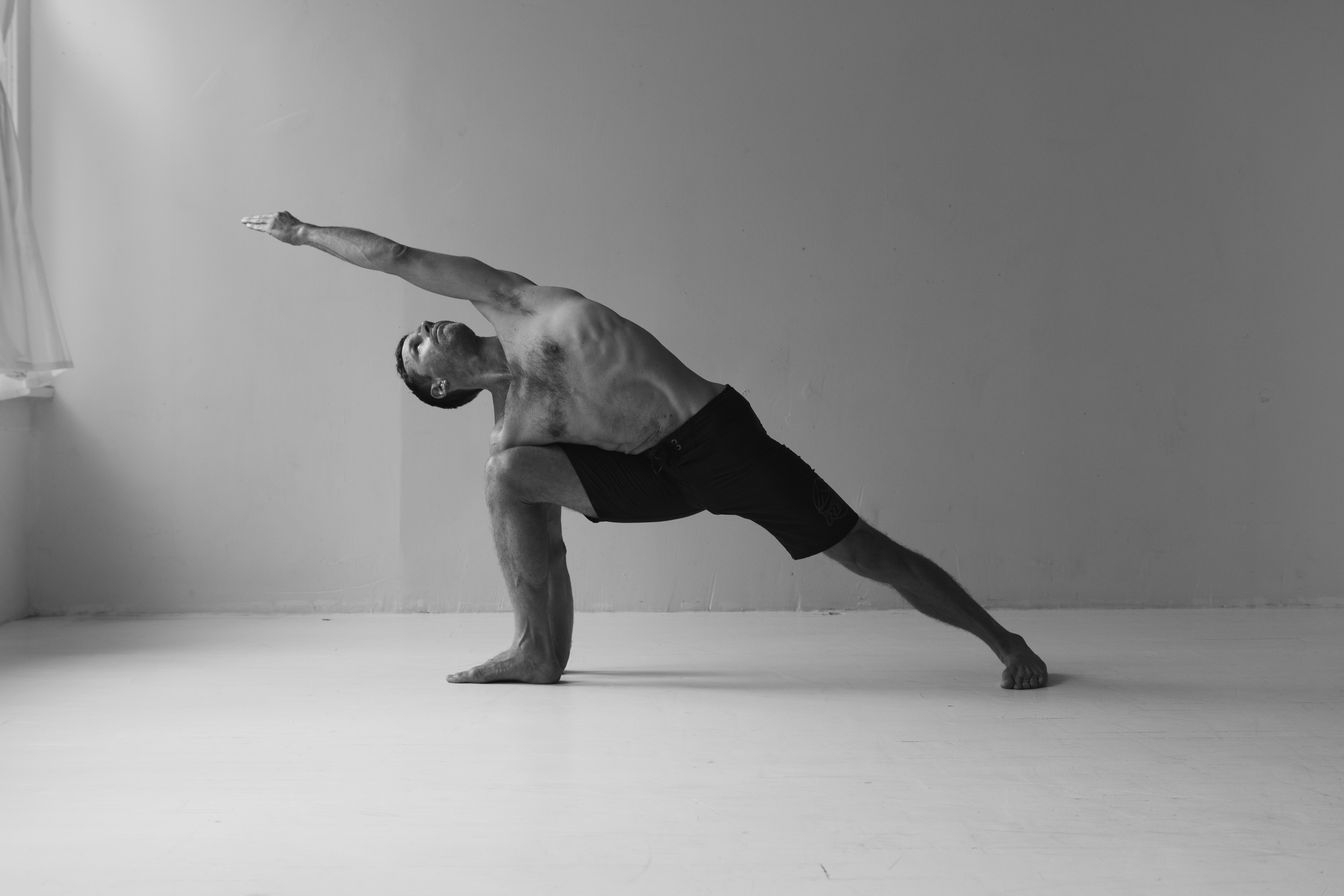 Class runs six days per week, in-person AND online (via Zoom)
Monday to Friday: 5:45am–8:15am: "Assisted Self-Practice" (Doors open 5:45am. Latest start time is 7:00am. Class ends at 8:15am.)
Saturday: 7:00am–8:45am: "Open Practice" (teacher and students self-practice together, as a community)
Full and New Moon days are rest days, with no class scheduled. A list of Moon Days can be found here.
Students without prior experience of the method are invited to attend a Free Orientation, where you can come watch the class in action and ask any questions that arise.
To book, click here: https://calendly.com/geoff-mackenzie-108/free-orientation
The Ashtanga Vinyasa Yoga practice is a method of self-purification, which combines postural, breathing and focusing techniques to clarify and balance the layers of body, nervous system and mind.
The method is designed as a daily practice and is taught individually to each student, in a way which honours their unique capabilities and predispositions. Not all techniques are suitable for every student.
In an "assisted self-practice" class, students are taught one-to-one, within the group setting. Each student learns and memorizes posture sequences at their own pace, according to their own capacity. Among many benefits, this way of sharing creates a calm, quiet and meditative class space in which deep states of concentration can arise. The teacher can then move around freely to assist each student as required.
Perhaps the greatest benefit of learning in this way is how, once the practice is memorized, the student is empowered to swiftly become an independent practitioner, capable of executing an effective practice in their own time and space, without need to attend a class.
Independent solo practice is highly recommended for all students, since it builds discipline and dedication and cultivates a meditative state. This can be combined with regular periods of study with a qualified teacher.
About Geoff
Geoff Mackenzie has been practicing yoga for over 20 years and teaching classes since 2004. His guidance is informed by his extensive study with the Jois family in Mysore, India, combined with occasional input from veteran Western practitioners. Modern approaches to strength, mobility and breath-work training feature in his own practice too.
Geoff is a reliable, steady presence in the classroom. You can count on him to apply the Ashtanga Vinyasa method in a way that will challenge you, while still respecting where you're starting from and what your intentions are. He wants you to breathe well, move well and to focus your mind on what you're doing.
Geoff was born and raised in the UK. After spending his late-teens and twenties snowboarding and surfing around the world, he came to Canada in 2003 and has made Coastal BC his home since 2005. One of his greatest passions is motorcycling and he always aims to "make life a ride."